Ian Tavares is the defending champion of the World Championship in the tournament mode from One Must Fall: 2097. Not much is known about Ian, altough it can be deduced he is of Portuguese descent due to his surname which is a toponym. While fighting he does display the flair and showmanship usually associated with the Portuguese culture. This also makes him more prone to making errors in judgement. If classified according to the classic video game fighting categories he is a lightning bruiser.
Tournament Mode
Edit
World Championship
Edit
ENEMY=0
NO MOVEMENT
NAME=Ian Tavares
QUOTE=You have fought well, but I am the rightful champion.
ROBOT=Nova
ENHANCEMENT 11=2
WINS=32
LOSSES=1
ARM SPEED=6
ARM POWER=6
LEG SPEED=5
LEG POWER=5
ARMOR=6
STUN RESISTANCE=5
// Make sure there aren't any matching photos.
PHOTO=0
SPEED=35
POWER=31
ENDURANCE=25
OFFENSE=92
DEFENSE=120
ATTITUDE NORMAL=20
ATTITUDE HYPER=40
ATTITUDE JUMP=45
ATTITUDE DEF=70
ATTITUDE SNIPER=40
AP THROW=250
AP SPECIAL=230
AP JUMP=120
AP LOW=-250
AP MIDDLE=150
AP HIGH=190
JUMP PREF=-20
MOVE FORWARD PREF=190
MOVE BACK PREF=-20
LEARNING=9.0
FORGET=.12
MONEY=9012
COLOR 1=16
COLOR 2=16
COLOR 3=16
WINNINGS=8000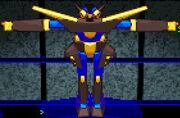 Ian Tavares always uses the Nova HAR. He has an high agility and even higher power stat, but his endurance stat is lacking. He has the highest aggression among all the pilots equalled only by Nicoli in World Championship. His second highest defense stat of 120 units is edged out by Nicoli's 130. Despite this he is a very dangerous opponent. The player should never allow him to inflict any damage by blocking his ground attacks and jumping to dodge the earthquake attack of the Nova. The player is to exploit his weaker endurance to defeat him.
Community content is available under
CC-BY-SA
unless otherwise noted.